News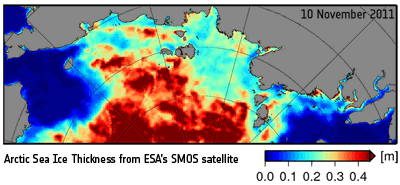 SMOS versatility offers sea ice mapping
20 December 2011
ESA's SMOS mission is proving to be extremely versatile. Not only does this pioneering satellite offer crucial data on soil moisture and ocean salinity, but it can also map the thickness of ice floating in the polar seas.
The Soil Moisture and Ocean Salinity (SMOS) satellite carries an innovative passive microwave radiometer to capture images of 'brightness temperature'. These images correspond to microwave radiation emitted from Earth's surface and can be related to soil moisture and ocean
This information is essential for improving our understanding of the exchange processes between the atmosphere, land and oceans – Earth's water cycle.
Although not a primary objective, it was suggested that the radiometer, which uses a wavelength of 21 cm (L-band), would also be able to detect sea ice, which is another important component of the water cycle.
In fact, an experiment campaign in 2007 over the Baltic Sea using an airborne version of the SMOS instrument confirmed that the mission had the potential to measure thin sea ice.
A group of scientists led by Prof. Kaleschke from the University of Hamburg's Institute of Oceanography has now developed and refined a method to make this a reality – showing, indeed, that SMOS data can be used to map sea ice routinely.
Moreover, the team has gone one step further so that the thickness of the sea ice can also be inferred. The information from SMOS is most reliable for ice that is thinner than 1 m.
As an example, the animation above shows how the sea ice in the Laptev Sea, which lies off northern Russia in the Arctic Ocean, advanced and thickened between 10 November and 10 December this year.
Prof. Kaleschke said, "Sea ice that is less than 50 cm thick is particularly important for weather and climate as it controls the exchange of heat between the ocean and atmosphere.
"This new information from SMOS will be very useful in monitoring ice as it grows in the winter and recedes in the spring."
"It will be used to investigate the exchange processes to improve our understanding of warming in the Arctic region."
The information on sea-ice thickness is complementing that delivered by ESA's CryoSat. Carrying a radar altimeter, CryoSat uses a different method of measuring sea ice – the height of the ice protruding above the water.
SMOS can offer daily coverage over the polar seas, while CryoSat provides higher spatial-resolution data and orbits very close to poles, thereby giving extra coverage.
The versatility of the SMOS mission appears to know no bounds. The mission has also demonstrated recently that it can offer new insight into the carbon and methane cycles by mapping soil as it freezes and thaws.
Susanne Mecklenburg, ESA's SMOS Mission Manager, said, "We have the potential of realising some very exciting new products from SMOS.
"Thanks to the work of all the scientists, we are taking the mission to a new level and making a substantial contribution to Earth science and operational monitoring."
Financed by ESA's Support to Science Element programme, the methods for detecting and mapping sea ice will continue to be refined and applied to other parts of the polar oceans.
It is envisaged that these products will be released for applications such as numerical weather prediction, ship routing and operational oceanography.