News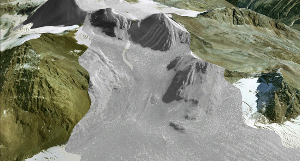 Workshop on Novel Mission Concepts for Snow and Cryosphere Research
16 September 2014
ESA is pleased to announce that the Workshop on Novel Mission Concepts for Snow and Cryosphere Research, will take place 16-17 Sept 2014 at ESA/ESTEC, Noordwijk, The Netherlands.
Information on the workshop can be found HERE.



Background
Earth Observation has demonstrated to be a suitable technology to support Cryosphere research and applications, providing unique information to advance the scientific understanding of cryospheric processes and their link to climate change.
ESA, through the results of ERS-1, ERS-2, Envisat and CryoSat, has contributed significantly to this understanding. In the future, the Sentinel series will maintain this contribution providing continuous and long-term data streams to address numerous scientific and operational aspects on Cryosphere research and applications.
A significant amount of data have been also collected through different targeted ESA campaigns providing a unique set of new airborne observations and in-situ data that support the scientific community to further advance in the development and consolidation of novel observational principles and retrieval techniques. These data represent an additional opportunity to explore and advance in the definition of novel mission concepts for the Cryosphere with a special emphasis on snow.
Recently, a set of new scientific challenges for the Cryosphere has been identified by ESA with the support of the scientific community.
These challenges represent the baseline to identify the major gaps in observations and the related future technologies, observational principles, and retrieval methods that may allow the scientific community to address them.
By reviewing recent field campaign based on ground, airborne and satellite observations the workshop will provide a state-of-the-art overview of techniques to observe snow properties by taking snow in other cryosphere disciplines into account.
Objectives
To review and discuss the major observational gaps in cryosphere science for the coming decades with a focus on snow;
To discuss results and progress in observing snow parameters based on ground, airborne and satellite observations and techniques;
To discuss the opportunities and challenges offered by the new generation of EO satellites (e.g. Sentinels) for cryosphere science;
To consolidate a scientific roadmap outlining the main priorities and challenges for the cryosphere community in terms of novel observations, technologies, retrieval methods and novel mission concepts;
Topics
Instrumentation, innovative developments and technological improvements
Active and passive measurements in the Cryosphere
Retrieval Methods and Models
Validation methods
Ground and airborne measuring campaigns addressing all relevant spatial/temporal scales
Impact of land cover on observations
Integrated Systems of Modelling, Assimilation, Ground data and Remote Sensing
Existing and future data from space
Call for abstracts
Papers will be selected on the basis of one page abstract. Abstracts should contain the following information:
- Proposed topic for the paper
- Title of the paper
- Full name of the Author(s)
- Name of contact person
- Summary of the paper
- Proposed type of presentation (oral or poster)
The abstract shall clearly outline the major interests and novelties of the paper.
The abstract submission deadline is 01 May 2013.
On-line abstract submission is available HERE.
Authors will be notified on the approval decision of the Programme Committee by 19 June 2014.
Authors whose papers have been accepted will then receive instructions for the preparation of their full-length paper.
Workshop Programme
The preliminary programme will be published by June 2014.
Registration
Registration is free of charge, however, in order to access ESA-ESTEC all participants will need to register in advance.
The online registration form will be available as of 1 May 2014.
Accommodation
In order to book your hotel in Noordwijk, contact the ESTEC travel office: estec.traveloffice@atpi.com
Calendar of events
| | |
| --- | --- |
| First announcement & Call for papers | 3 March 2014 |
| Abstract submission deadline | 1 May 2014 |
| Notification of acceptance | 19 June 2014 |
| Final programme publication | 15 August 2014 |
| Workshop dates | 16 -17 September 2014 |
Venue
The conference will be held at the Space Research and Technology Centre of the European Space Agency (ESA/ESTEC), located 40km south-west of Amsterdam International Airport.
ESA organising committee
Michael Kern
Dirk Schüttemeyer
Mark Drinkwater
Diego Fernandez
Paolo Bensi
Arnaud Lecuyot
Chung-Chi Lin
Scientific committee
Chris Derksen
Juha Lemmetyinen
Jouni Pulliainen
Helmut Rott
Thomas Nagler
Martin Schneebeli
Andreas Wiesmann
Christian Maetzler
Kari Luojus
Stefano Tebaldini
Giovanni Macelloni
Simon Yueh
Mel Sandells
Ralf Bennartz
Wolfgang Dierking
Contacts
ESA Conference Bureau
PO Box 299
2200 AG Noordwijk
T: +31 (0) 71 565 5005
F: +31 (0) 71 565 6558
E: esa.conference.bureau@esa.int